ELISA ATHENIENSE HOME
ELISA ATHENIENSE HOME creates unique Tresse handmade cushions, blankets, rugs, baskets, soft furnishing and wall coverings. Bespoke and exclusive projects are available on demand .
Elisa Atheniense Home is a unique brand of luxury homeware expert in woven techniques using exquisite materials and promoting Brazilian craftsmanship. The collection is composed of cushions, throws, baskets, wall coverings and soft furnishings made of either upcycled ethical leather or organic cotton for cozy, stylish interior and exterior spaces. Each piece is unique and handcrafted in Brazil. Elisa Atheniense Home perpetuates the sustainable and traditional ways of working. SRC and TRC distribute exclusively the collections in EMEA, APAC, and manage bespoke projects worldwide.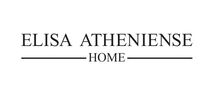 Add
News
10/12/2019 ELISA ATHENIENSE HOME BY THE COLOR ROOM - BESPOKE SMALL FURNITURES

This year, The Color Room will present a range of encompassing unique leather woven ottomans and poufs together with Elisa Atheniense Home, from cushions, blankets, baskets, rugs to designed vases and other luxury home accessories. TCR is also introducing a new bespoke and interior design services for hotels, residential villas, indoors and outdoors accessories.