ELISA ATHENIENSE HOME
ELISA ATHENIENSE HOME brings unique Tresse handmade cushions, blankets, rugs, baskets to bespoke and exclusive furniture and pieces by special order.
Tresse is the art of leather weaving. ELISA ATHENIENSE HOME braids are made manually by Brazilian craftsmen in their specific workshops. This makes each piece unique. With each collection, we create and try new models and techniques. This trade goes through stages of production, from the purchase of leather to the final product to always bring a beautiful piece to complete a space. ELISA ATHENIENSE studied design in Florence, Italy and Camila Lafer also studied styling and design at the London College of Fashion both of them develop and design EA pieces.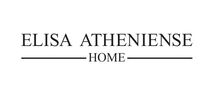 Add to selection
Projects
News
10/12/2019 ELISA ATHENIENSE HOME BY THE COLOR ROOM - BESPOKE SMALL FURNITURES

This year, The Color Room will present a range of encompassing unique leather woven ottomans and poufs together with Elisa Atheniense Home, from cushions, blankets, baskets, rugs to designed vases and other luxury home accessories. TCR is also introducing a new bespoke and interior design services for hotels, residential villas, indoors and outdoors accessories.