METTEHANDBERG ART PRINTS
METTE HANDBERG ART PRINTS timeless expression with elegance and a Nordic feel. Her designs are being described as modern and feminine with a poetic stroke. Select various art prints from modern to abstract and timeless art for your walls.
Mette Handberg gives her audience the ability to create a stylish and nurturing home environment. Her inspiration comes from nature and Nordic style. Mette Handberg has lived in Florence, New York City and Paris. This inspires her work and helps create the unique feeling in her Nordic look. In 2019, Mette Handberg introduced an eco friendly collection with everyday design for the kitchen. Common for all products is the focus on high quality and manufacturing, combined with environmentally friendly and local production. All products are designed by Mette and made in Denmark or Sweden.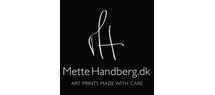 Add
News
09/08/2022 Mette Handberg - Art Prints News 2022

METTE's unique style is deeply embedded in her Nordic roots and inspiration from the Danish landscape that surrounds he. Her elegant artwork provides a beautiful and serene addition to any home. METTE has resided in Florence, New York and Paris and these influences provide further layers to her unique style. Her artwork is of the highest quality and is environmentally friendly & locally produced.

09/08/2022 Mette Handberg - Tirages d'art Nouvelles 2022.

Avec les épreuves d'Art crées par Mette Handberg, vous découvrez l'ambiance Nordique dans son expression intemporelle. Son travail artistique est décrit comme « une caresse féminine mâtinée de lignes poétiques » METTE HANDBERG a vécu à Florence, New York et Paris. Cela inspire son travail et aide à créer le sentiment unique dans son  look nordique.

09/08/2022 La collection eco-friendly de Cuisine - 2022

Nous sommes heureux de vous présenter notre plus récent ajout à notre collection eco-friendly de Cuisine. Choisissez parmi des éponges biodégradables, des plateaux de service / planches à découper naturels à base de bois et 100% lin épais, ou un mix de torchons 50% coton 50% lin imprimés à la teinture végétale.