FARMACIA SS.ANNUNZIATA DAL1561
FARMACIA SS.ANNUNZIATA: A bridge between tradition and innovation since 1561.
From historical handmade processes to controlled preparations made with modern and safe machinery. High-quality controls and continuous studies on raw materials. FARMACIA SS.ANNUNZIATA is style, research, tradition. "Arti Maggiori" Room Fragrances: the style and the history of Florence told through seven exclusive fragrances inspired by an antique and attractive Florence. Innovation and avant-garde. The tradition of formulating skin products and scents dates back to 1561 when the Pharmacy was founded. A historical profession that makes us unique still today.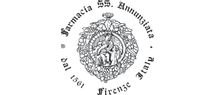 Add