JULIEN LACHAUD ÉBENISTE
JULIEN LACHAUD cabinet maker. Recognized Master Craftsman and Ateliers d'Art de France, his style is characterized by the geometric, innovative and decidedly modern lines of the pieces he creates in series limited or in unique pieces.
A graduate of a Master's Technician's Certificate, JULIEN LACHAUD was able to acquire a solid foundation through his career in various high-end cabinet-making companies. In 2008, he opened his workshop in the South Vendée. Imaginative, creative and open to other disciplines, he likes to combine the know-how of other artisans or artists in his projects. He usually designs his pieces on a freehand sheet. JULIEN LACHAUD works for large houses like Caron, Louis Vuitton, Levi's but also for architects, decorators, designers, and private individuals.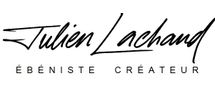 Add
Member of Ateliers d'Art de France