ARECABIO
Our products are all-natural. They are chemical-free as they do not come from any industrial process. Areca Palm leave products are the only products in the market that are 100% natural. Our Deco Object are made in our workshop In France.
All our Products are heat pressed so there is no chemical used. They can hold hot or cold food. They do not get easily pierced like plastic or paper plates. They can be hand washed and used a few times. Once you're done using, you can throw them into your home compost pile. If you wish to protect the environment and stop using plastic products, us Arecabio products.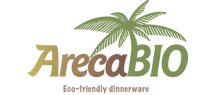 Add
Projects
News
02/04/2021 Easter party !

we are glad to show you our latest range of Easter decoration made of palm trees leaves

24/03/2021 Display box with earings made of Palm trees leaves 100% vegetal

We are pleased to offer you a wide range of earings made of palm trees leaves. Especially design with a display wooden trays to give you the chance to increase your sales, suitable for flower shops and others city stores. The package include 15 pieces of earing and 15pieces of small pouch and Certificate...