NASHI HOME RESINWARE AUSTRALIA
NASHI HOME RESINWARE AUSTRALIA specialises in the design and manufacturing of quality hand-crafted resin home wares and lifestyle products.
NASHI HOME was founded in Sydney, Australia and now also operates from Holmdel, NJ, USA. Our inspiration for our home wares come from the many iconic Sydney beaches. The waves, beautiful aqua water, sand and climate can be seen in the swirls, texture and vibrant color of our pieces. All our products are designed in unique shapes and sizes that are easy to mix and match for home decor and everyday entertaining. We also specialise in bespoke pieces.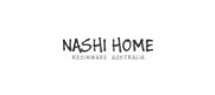 Add to selection