LEGGYBUDDY
leggybuddy® is a Swiss children's lifestyle brand founded by fashion and graphic designer Suzana Pezo Sommerfeld. Brand leggybuddy stands for combining contemporary design with craftsmanship and traditional handcraft techniques.
Leggybuddy started as a brand of lovely handmade dolls and is continuously expanding the collection to other baby and children products; from home accessories to fashion. Each leggybuddy product is designed with utmost care to be fun for the child and serve as a stylish contemporary home decoration for the grownup. They are equally loved by children and adults for their charm, timeless design, and impeccable craftsmanship. Leggybuddy products are selling at children concept stores and luxury department stores.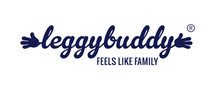 Add
News
14/01/2020 LEGGYBUDDY - handmade toys from Switzerland

LEGGYBUDDY: INTERNATIONAL REQUESTED CHILDREN'S BRAND FROM ZURICH In a blink, they create a very emotional connection to our childhood: our former favorite toys. These timeless symbols of our childhood are the heart of Suzana Pezo Sommerfeld's brand LEGGYBUDDY® in Zurich. LEGGYBUDDY stands for handmade toys and home accessories.