JETTE FRÖLICH DESIGN
Every design from designer Jette Frölich's hand embodies the spirit ofNordic Design: Unique handmade interior design that emanatedelicacyand elegance. Nordic simplicity at it's best!
Unique Nordic Interior Design added Danish delicacy, poetry and elegance. Jette Frölich's design touches every heart. Every single design with its delicate details is initially cut out in fine paper,by Jette herself, with her paletteof fine scissors. Her personal and original work emanates sophisticatedelegance, just as her signature colours –frosted white and soft greyish blues and greens – mirror her Scandinavian origin.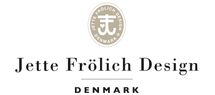 Add to selection