GIMAROIR
GIMAROIR, Unbreakable lace mirrors. This process aims to easily manufacture decorative mirrors capable of presenting a wide variety of appearances to give them a rewarding aesthetic appearance;
GIMAROIR is a brand of decorative, customizable mirrors combining design and quality, they are unbreakable. A range that will allow you to personalize your interior according to your desires. And not just a wall decoration. We offer a multitude of classic or contemporary shapes, screens, doors, made-to-measure. For any specific request, do not hesitate to contact us or visit our site. The manufacturing process is the result of a method that was the subject of a patent filing on July 31, 2019: French Patent N ° 1908773.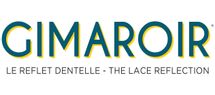 Add
News
13/01/2020 GIMAROIR - LE REFLET DENTELLE

GIMAROIR est une création d'un genre nouveau et de fabrication française. Le procédé de fabrication est issu d'une méthode faisant l'objet d'un dépôt de brevet le 31 juillet 2019 : Brevet Français N°1908773. Celui-ci permet de fabriquer des miroirs personnalisés, une déclinaison infinie de formes et d'apparence en conservant un aspect esthétique valorisant.