OMBRES ET FACETTES
Attending MAISON&OBJET
17-21 January 2020
FOREVER SIGNATURE Hall 8 — Stands B8
Inspired by the lustriers of the early 18th century, we publish and manufacture chandeliers, lamps and bronze and crystal sconces with semi-precious stones.
Established in 1994, OMBRES ET FACETTES is located in the Loire Valley between Blois and Orléans, near château de Chambord. Adapting our creations to present-day tastes, we reinvent our chandeliers, basing our designs on archives documents or taking ideas from photographs of antique models. We design our own collection, we are able to create entirely bespoke chandeliers or produce replica models from private collections.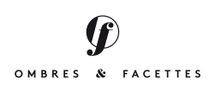 Add to selection
Projects
News
16/06/2019 Exposition "de l'or dans les mains" Vendôme museum

Vendôme's brand craftmans exposition in Vendôme Interpretation center of architecture and patrimoine. from 8 to 30th of june at Museum regular opening hours. https://www.bienplusquuneplace.com/de-lor-dans-les-mains/

14/01/2019 Ombres et Facettes

Ombres et Facettes is on Nelly Rodi stand

07/09/2018 Opening a showroom !

We are delighted to announce the opening for our showroom in the famous flea market of Saint Ouen, just up north Paris. Come and visit us during Maison et Objet september 7th - 11th same opening hours as M&O. 154 rue des Rosiers 93400 Saint-Ouen. From september 15th, our showroom will be open Saturday, Sunday and Monday from 10am to 6pm, and Tuesday - Friday by appointement.