VETROGIARDINI
The first laminated glass bench line in the world for outdoor and indoor with a really strong impact, as they are emotional objects that concentrate in one product: Elegance, Astonishment and Endurance.
The company has a great past of craftsmanship and the know-how of the most modern glass process tecnologies. The designer has exploited his technical intelligence and artistical sensitivity. Our masterpieces can be positioned in any environment without altering the architectural values; they are not only benches but glass sculptures where you can sit. Vetrogiardini has been confirmed ed an icon of the Italian design, as the models Museo have been chosen for the art collection of the Italian President's official residence. "Vetrogiardini, only for those who want to see beyond."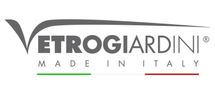 Add to selection
News
19/01/2020 New model MUSEO WILD at LDD Award 19, the swiss design award in Lugano

The iconic model Museo, which is an essential and minimal bench with a linear and pure design, has been presented with its new version Wild: the special effect reminds the nature with gentle and savage movements, grass blades dancing in the wind, branches up to the sky, creating a wild feeling. This special finish is now available on request for all the models Vetrogiardini.

19/01/2020 Our unique seats have been chosen for the project "Contemporary Quirinale", strongly desired by the Italian President

The artistic selection committee evaluated that Vetrogiardini and particularly the model Museo, fully deserved to be between the 32 design products that represent the Italian excellence in the artistic and project field of the whole Republican period. Now the bench and chairs Museo are at the Italian President's official residence together with other iconic masterpieces of italian design.