LE CAMELEON DINE
The Cameleon Dine offers a completely new, original and made in France concept: an educational plate and its game cards for educational, serene and fun family meals!
French startup, we designed the first educational plate 100% made in France. Aimed at children from 3 years old, our plate guarantees serene, educational and fun meals! The child discovers the card hidden at the bottom: he reads, he thinks, he imagines, he has fun ..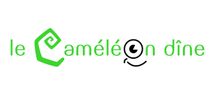 Add to selection
News
20/12/2019 The educational plate by Le CaméléOn Dîne in the WESCO 2020 catalog

True French innovation 2019, the educational plate by Le CaméléOn dîne, launched at the Made in France 2018 fair, signs a partnership with Wesco, the specialist in furniture, awakening, games and equipment for children. Designed with early childhood specialists and validated by children, the educational plate will be present in the 2020 catalog. No more complicated meals, let's wake up!