EMILIE SAUZET - INSPIRATIONS
Inspired Textile Design for Inspiring Collections. Fashion and Decoration Accessories Limited series and unique pieces designed and manufactured in France. A whole new universe....
The Universe of Emilie's Collections Inspired by the invisible, the sacred feminine, the divinatory arts, the history of Art… I create compositions of forming images of «Digital Art» paintings. These fabrics become textile creations and are transformed into useful objects: Fashion Accessories or Textile Decoration Objects. Sometimes, embroidery and weaving are a medium for making unique pieces... The images speak better than words, I let you discover my latest photo collections! Les images parlent mieux que les mots, je vous laisse découvrir mes dernières collections en photo !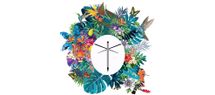 Add