L'ATELIER LETTERPRESS
With L'Atelier Letterpress, paper becomes precious! Fall under the spell of our art prints, cards and bookmarks letterpress-printed in our workshop-barge located in the south of Paris.
Created by two enthusiasts of fine papers, L'atelier Letterpress offers you a universe with original creations or archival reissues, all in a vintage spirit highlighted by Letterpress printing on exceptional papers: cotton, recycled, very thick ... Every detail is taken care of, from the meticulous design to letterpress hand-printing and the packaging (bilingual French / English), and honors French know-how. Hand-printed in France in our workshop located on a barge on the Seine.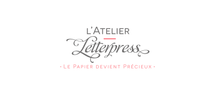 Add
News
07/09/2021 Creations for the wrapping of the Arc de Triomphe in Paris by Christo

It's the big Parisian event for the start of the 2021 school year, and we are delighted to have created a whole range of stationery from the artist's sketches: art print, card, bookmark, all on beautiful thick and recycled paper, and printed in Letterpress in our workshop, and an organic cotton tote bag made and printed in France.

15/07/2021 Creations for the Hôtel de la Marine

The sumptuous Hôtel de la Marine, Place de la Concorde, has finally opened its doors and we are delighted to have collaborated with them to create three stationery items in their image: an art print, a card and a bookmark, printed in 1-color Letterpress on plush cotton paper for the art print, extra heavyweight recycled paper for the card, and semi-heavyweight recycled paper for the bookmark.