SYNCHROPAINT
Self-invented technique based on synchronization of the oldest action painting method by which one can apply color to an object from a distance, without tool for paint application touching the object's surface.
In symbiosis of curved blown glass shapes and painted structural patterns we create decorative glass vessels, preeminently vases because of their long tradition. Thanks to the action painting effects of paint coating, the designed patterns give each and every product a unique appearance with an abstract note. The imitation of synchrony found in nature and in urban everyday life defines Synchropaint's design, whose goal is to enrich any interior space with dynamic optical effect of gentle artistic warmth.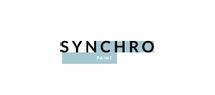 Add
News
30/08/2020 There are no bad shipments, there is only bad guarantee

OUR NEW REFUND POLICY / We handle refunds, with the ultimate goal of making our customers feel real secure that they will receive exactly those and such items that they ordered, within a certain limited period of time. Our philosophy is to deal with refunds, not with returns of goods, due to very high expenses of shipping and specialized packaging of glass products.