KATRIN LEUZE -COLLECTION-
KATRIN LEUZE -COLLECTION- synonym for a high quality home- and living-accessories collection.
The collection is designed by Katrin Leuze. The luxurious products represent the timelessness in design and workmanship of the highest standard. The creativity and attention to details can be found in trendy accessories-articles again. Chunky-knit cashmere blankets provide maximum feel-good factor. Unusual gift ideas for special occasions complete the collection.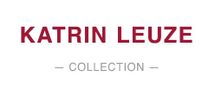 Add