GRACCIOZA
Graccioza: Portugal's finest bath linens.
Graccioza® has been described as the best bath linen in today's luxury market. Our products bring together the world's finest fibers with multi-generational experience in manufacturing and design. Everything is thought in detail and manufactured with the highest standards. Step into luxury with Graccioza® and our premium bath rugs, towels mats, and robes.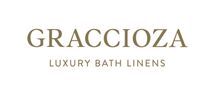 Add
News
15/02/2021 Collection Graccioza 2021: maintenant disponible!

Pour nous, le début d'une nouvelle année est l'aboutissement d'un long processus menant au lancement de notre nouvelle collection. Avec de nouvelles couleurs unies vibrantes, une nouvelle large gamme de produits et six nouvelles coordonnées, la collection 2021 propose une large gamme de produits qui répondent aux différents goûts et styles de nos clients. Contactez-nous pour plus d'informations.