SOREMA BATH FASHION
SOREMA® Bath Fashion pursues greatness through creativity and constant innovation, both in the design and manufacturing.
SOREMA® - Bath Fashion develops a comprehensive collection of bath textiles and accessories focused on design, quality, and comfort. Eclectic, bold, and unique, we exist to guarantee that everyone can create its own bathroom atmosphere, giving them a wide bath range to choose from, inspired by the latest trends.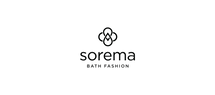 Add
News
19/02/2021 Sorema Bath Fashion 2021 Collection: now available!

After much expectation, the new 2021 Sorema Bath Fashion Collection is now available on our B2B platform. This year, our goal was to create a more sustainable collection with the same level of creativity and style as our previous ones. Go Vegan and Gaufre are our highlights for this year, but there's much more to discover. Get in touch with us for more information.