E. MURIO MANILA
Makers of finely crafted furniture, cabinets, & home interiors.
Specializing in natural materials like tropical woods, fiber and grass weaves, rattan, and bamboo, E. Murio's heritage furniture includes finely crafted home interiors and accessories, finished off with their signature bindings and bone fittings. Their timeless, tropical pieces echo the brand's Spanish and Asian roots, but are constantly updated with contemporary designs, techniques, and concepts. For M&O Digital, they are part of Bubble Living, a virtual showcase by Kindred Design Collective, organized by CITEM, the export promotions arm of the Philippine Department of Trade and Industry.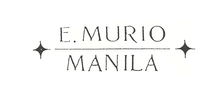 Add
Projects
News
26/11/2020 New Collection: Escape Home

They call it 'Il dolce far niente' - the sweetness of doing nothing. We fully embrace this philosophy with pieces crafted in collaboration with @halohalostoreph. In rattan + recycled plastic weaves.