SHISHI AS
SHISHI is a Norwegian-Estonian company established in 1998 by JOHNSEN, LILLI BENDRISS, TAIVO PILLER and MART HABER.
 Friends wanted to create an international brand that would offer fresh and interesting ideas for interior decoration.
The name SHISHI was chosen for its appealing look: the owners wanted to create a meaning for it themselves. Initially, the main emphasis was on self-created vases and artificial flowers, as both LINDA JOHNSEN and TAIVO PILLER are internationally recognized florists, champions of their respective countries on numerous occasions and representatives of their countries in European as well as world championships; both have also been jury members in international contests.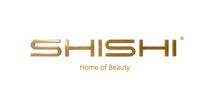 Add to selection
Collections
News
07/12/2017 Shishi SS2018

2018 will be a very special year for Shishi. In January, Shishi is opening a showroom in Atlanta, USA. In April, Shishi's head office, showrooms and outlet are moving to a new location in the Noblessner Port in Tallinn. The old submarine factory building is being restored for Shishi. In August, Shishi will celebrate its 20th anniversary. The images of spring and summer are made in America.