LA SAVONNERIE DE NYONS
LA SAVONNERIE DE NYONS is a craft company manufacturing soaps and cosmetics. Located in NYONS, in the heart of the "drôme provençale".
LA SAVONNERIE DE NYONS, specialist of soap boxes with exclusive drawings, has a long tradition of soap making. Indeed, LA SAVONNERIE DE NYONS is very proud of the quality of the ingredients used and is passionate about traditional recipes. It's with innovation and know-how that Erwan Allée decided to revive the passion of traditional soap making through LA SAVONNERIE DE NYONS. In Provence where nothing is missing: the sun, the climate, the aromatic plants, the olive trees…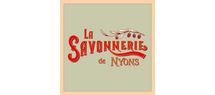 Add
News
23/11/2017 Un succès économique jusqu'à l'autre bout du monde

L'authenticité des produits et l'ancrage territorial fort d'une marque française n'empêche pas de voir bien au-delà de nos frontières en matière de développement. Bien au contraire, cette même authenticité et cette identité forte sont probablement à la base de l'attractivité des marques qui savent rester fidèles à leurs principes de départ sans jamais transiger en matière de qualité.

23/11/2017 Une nouvelle étape dans la quête du bien-être

Présentée au mois de septembre lors du salon Maison & Objet, la nouvelle gamme bien-être de la Savonnerie de Nyons a séduit les professionnels. Avec ses cinq nouveaux produits haut-de-gamme, la marque étoffe encore la richesse de son offre tournée vers la culture du confort et du corps respecté. Cinq savons, cinq parfums, cinq esthétismes, et des vertus diverses pour prendre soin de soi.

29/08/2017 Les propriétés vertueuses d'une gamme de cosmétiques au Lait d'ânesse Bio

Pourquoi mettre Le Lait d'ânesse Bio au coeur de votre routine beauté ? Parmi les produits phares qui ont fait connaître son nom, la Savonnerie de Nyons a développé au fil des ans une vaste gamme de cosmétiques au lait d'ânesse Bio.