EFIA - SALONLOEWE - AKZENTE
SALONLOEWE is our brand for floor mats and home textiles which create living spaces that are as individual as you. Join us in discovering tomorrow's trends and make yourself comfortable with the new SALONLOEWE Collection!
EFIA presents SALONLOEWE Design carpets/door mats: beautiful, machine washable, without PVC, Made in Germany, 5 years guarantee. Your life is colourful and unique? Then, we have the right floor mats for you! Browse through our beautiful mat designs and discover the big range of stylish colours and designs. Suitable for in and outdoor use, in many sizes and shapes. You will be delighted to find extraordinary licenced designs from our artists as Wachtmeister Lifestyle,Anna Flores and Gigi Banini.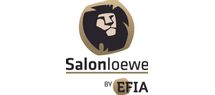 Add to selection