TURNER COLOUR WORKS LTD
Turner Colour Works est un fabricant de peinture basée à Osaka, Japon. Sa série de peinture pour l'intérieur permet à toutes personnes, du novice au professionnel de décorer son intérieur avec des objets que l'on pourra personnaliser facilement.
Japanese paint manufacturer based in Osaka. We make paint for a large range of purpose from Fine Art to building, amusement park and hospital. Has a huge line of DIY products including the famous Milk Paint, Iron Paint, Glass Paint etc...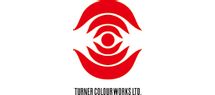 Add