ART GRAFIK INTERNATIONAL
Specialised in products with messages for almost 40 years, Art Grafik has been claiming its artisanal and family structure. Our range of products: greeting cards - stationery - confectionery - gifts. All designs were created by our own.
What we offer: Life is made up of small pleasures! But we would like to give you even more. The best service - from our first idea, production up to presentation in your shop, we take care of everything! Know-how, the best materials and love for every detail are our manufacturing secret. As a family business, we have been present on the international market for more than 10 years now (Netherlands, Italy, Hungary...), with a special focus on the French-speaking market (Luxembourg, France, Belgium, Switzerland, Canada).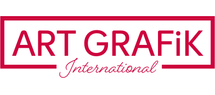 Add