LES FORGES DE SAINT-AMAND
Les Forges de Saint-Amand has the will to remain faithful to the hand-made production, custom's-made and checked in every step of the process. Our clientele looks for unique creations, without comparisons.
Our international collaborations allow us to follow all the projects, proposing complete ranges of products, designs and exceptional finishes, ensuring a long-term resistance and a constant research of innovation, the tradition, the modernity, to be closer to market trends. Our products are handcrafted and are made from recycled materials, we selectively manage all our waste and minimise packaging. Les Forges de Saint-Amand is a brand owned by SOFOC. Come and discover our products. Choose the excellence!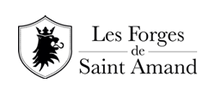 Add