NEO LEGEND ARCADE 2.0
NEO LEGEND - Premium arcade machines.
NEO LEGEND ARCADE games machines are original products, combining both video games, design and fully customizable decoration. They are assembled in France with the highest quality components from selected suppliers. The care taken in their design and manufacture make them authentic products with a contemporary look and professional reliability. Unique to the market, NEO LEGEND ARCADE machines are exceptional products with a true character that proudly bare the NEO LEGEND hallmark.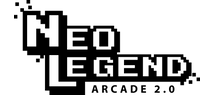 Add to selection