LE JARDIN DE MADEMOISELLE
Our story is a lovely tale imagined by us ... for you. We are Floriane and Aline, the founders of Jardin de Mademoiselle.
And we'll tell you the tale of our garden because we love good stories. It began in 2016 with our meeting and a common passion for a certain little green leaf. at the time, we worked in the same tea shop. We get along so well that one day, after 2 years of loyal service, we have the idea of creating our own brand of tea. However, we want her to look like us! This is why we are working hard to release our first creations at the end of 2018.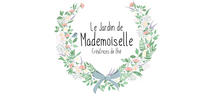 Add