EUROCINSA
STYLE IN DECORATION
EUROCINSA, A COMPANY WITH GREAT EXPERIENCE AND A LEADER IN OUR SECTOR. DESIGN, MANUFACTURE OF PAPER AND RIBBONS, DISTRIBUTION AND SALE OF DECORATION, ARTIFICIAL FLOWER, GLASS, DETAILS FOR GIFT. WE HAVE A WIDE VARIETY OF WRAPPING PAPERS, FOR RETAILERS AND PROFESSIONALS, INTERIOR DESIGNERS, DECORATORS. WE ARE YOUR TRUSTED SUPPLIER, ALWAYS INNOVATING.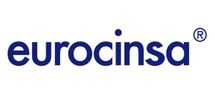 Add
News
08/02/2021 NEW COLLECTION OF GIFT PAPERS

Dear customers, We invite you to know our new collection of gift papers in which you can find many current designs to personalize your company for the end customer. https://drive.google.com/file/d/1Fev7QmZxeoXMNPWeGVOSlbT2_CAPHaiq/view Discover it !!!!