PRANDINA LIGHTING STORIES
We think up, design and produce locally. Between the Venetian artisans' wealth of knowledge in the craft of glassblowing and the vibrancy of Milan, the hub of international design.
Describing what Prandina has stood for since the very beginning is simple, we offer best-selling products and innovations in glassblowing techniques, we deliver and bring projects to life around the world. Describing what Prandina represents for someone who's worked and continues to work here to this day is much more complicated, it's a collection of emotions and feelings, of people and experiences, of knowledge and fulfillment. This is the greatest and most important of all the #lightingstories we want to tell.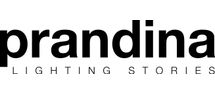 Add
News
12/03/2021 The story of a flower that becomes a ray of light

With the softness of a flower the Tulipa collection is born. A new story of light that revisits the typical suspended spotlight in an elegantly decorative tone, giving life to a versatile and modern suspension lamp. The Barcelona based Khamai Studio wanted to write this transformation by identifying in Prandina the ideal partner, investing in new materials, special finishes and unusual shapes.

12/03/2021 Fez Collection

A new collection of glass and metal of Prandina. A new lighting story for an everngreen design. A new concept with the old tradition of blown glass designed by Marco Alessi.