KANDHELA
Discover and wonder over those magnificent original candles, handmade by craftsmen from The kingdom of Estwatini . A gift to support wildlife preservation associations ; This is our common mission!
At the end of the World !This is where the story of Kandhela begins. A few years ago, my daughters and I were flying to the far end of the African continent. The Kingdom of Estwatini (Swaziland) then revealed its splendid landscapes, the kindness of its inhabitants as well as its craftsmanship. Creating candles is one of those crafts. Our candles are all handcrafted which makes each copy unique. They benefit from the FAIR-TRADE label which guarantees compliance with economic, social and environmental standards. Let yourself be charmed by their shapes and colors!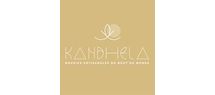 Add
Projects
News
16/03/2021 MUNU le Rhinocéros

Hello everyone and happy to see you on my news page! Every month, I contribute to MUNU, a blind rhino saved by an association! Without it, it would not have survived. Your purchases help me continue this mission. To do this, discover my splendid candles all handmade by artisans in Fair-trade on my website www.kandhela.fr! Thanks a lot !