ATELIER SOLVEIG
Solveig is a workshop for home textile creations in natural dye. Solveig creates its own collections and designs unique and tailor-made pieces for professionals: curtains, wall panels, bed linen, etc.
The vegetable dye offers an infinite palette of vibrant and original colors from the most subtle to the most powerful. Solveig combines it with different pattern printing techniques such as screen printing, shibori or reserve dyeing. This combination allows Solveig to create unique textiles that resonate with the personality of the place and the spirit of the project. Responsible brand created by Charlotte Leguay in 2018, Solveig produces a natural and non-polluting dye. The pieces are designed, produced and made in France between Paris and Touraine.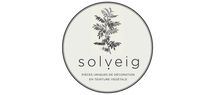 Add
News
30/04/2021 Marie Claire Maison like the new collection Tivoli Solveig

17/03/2021 Solveig x Le Jacquard Français

Created from stock of linen table linen from Jacquard Français, this upcycling collection is part of Solveig's eco-responsible approach. Tablecloths, placemats and napkins: 820 pieces hand-dyed in indigo, Japanese sophora, madder and cachou to obtain soft and spring colors.

17/03/2021 Solveig on the Paris Design Week route

On the occasion of Paris Design Week, Solveig is moving to Happy Les Curieux in the heart of the Marais for the Brut / es exhibition where she shares the poster with Sophie Dupontel, Yume céramique. The new Solveig home collection is uncompromising. Vegetable dye and natural materials combine in a raw and poetic expression.