GEORGIA CHARAL ART JEWELERY
Georgia Charal's designs allow to women to be chic, classy, elegant, sophisticated. Contemporary Jewellery touching the Greek heritage, the philosophy of simplicity, the surreal aesthetic, the femininity.
Georgia Charal's design philosophy attempts to create contrast which is reflected on the materials used and the colors applied. Combining harmoniously the unique design and exceptional unrefined materials creates stylish exclusive designs. Inspiring from a valuable aesthetic philosophy of simplicity and the combination of opposing elements, all creations are made by gold (2m), silver (925 or more), brass, semiprecious stones, pearls and enamel. Nickel free jeweleries made according to the Regulations Set by the Chamber of Industry. High jewelry designs for advanced looks.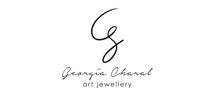 Add