MARIE MAISON SICILIAN DESIGN
"Furniture without color is like a day without music". Discover my exclusive handcrafted furniture lines.
There is always both instinct and reason, both imagination and analysis, in each creative process that wants to be original as well as practical. The thread which links the first idea to the actual design is subtle, but that is the starting point of long precision work, guarantee of authenticity and quality.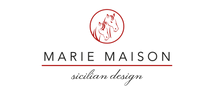 Add