DI BENEDETTO LAMPADE
Our products are handmade, entirely designed and created in Italy.
Since 1969 the company "Di Benedetto Lamps" produces lamps, sconces, chandeliers, floor lamps, all made of wood and decorated in gold and silver leaf. Our products are handmade, decorated with Italian techniques, and we choose the best materials to make them. Our new line of pure crystal lamps meets every modern taste and reflects the latest trends. Our production is characterized by many finishing touches to satisfy the most refined clients, maintaining an high profile and a competitive price. Our products sum craftsmanship, style and quality and are all guaranteed by EU regulation.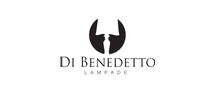 Add