SIWA SOFT STYLE HOME
Made in Italy A philosophy of thinking of "making Italian", a high technical and artistic competence intertwined with ancient traditions and recognized all over the world. Essential style for all people who aspire to uniqueness and prestige.
SIWA SOFT STYLE is a brand of the Zandarin company, an Italian company that recognizes its production philosophy in excellence. After completing his studies, the owner Silvano works in his father's company, a sofa manufacturer since the 1940s. In 1992 Silvano founded his own company and, over the years, expanded towards international markets. In the following years, a production with a classic imprint was flanked by a glamorous collection for a wider range of customers. This evolution has led the company to embrace a contemporary lifestyle concept and to create the new SIWA SOFT STYLE brand.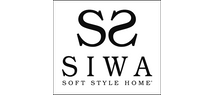 Add