SINTESI CERAMICA ITALIANA
Top quality brand from one of the most prolific ceramic factories in the Ceramics District, Sintesi has always devoted the utmost attention to detail with a vast range of contemporary articles in all sizes and colours.
Since 1998, Sintesi has offered design solutions for indoor and outdoor floors and coverings, capable of personalising every private and public space. Sintesi porcelain stoneware is entirely made in Italy in our own plants, with cutting-edge technologies and sustainable, eco-friendly production processes.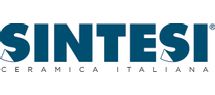 Add