DEART SRL - ITALIAN FINE FURNITURE
Bespoke humidors and wine cellars entirely hand-crafted in Italy since 1962 for the most discerning customers.
Our story began in 1962 in Northern Italy, with the idea to spread the culture of precious furniture as art all over the world. Over the years we have developed and expanded our craftsmanship and knowhow into the world of cigar humidors and wine cellars, conveying our unique and undisputed style into bespoke projects. DeART products range from fine furniture to complete interiors, from showcases for cigars to designs for tobacco shops and complete walk-in solutions with high tech humidity and temperature systems for exclusive hotels, yachts, private homes and cigar clubs.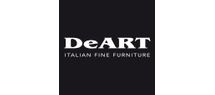 Add
Projects