LAMINAM FRANCE
Laminam produces ceramic slabs which challenge the traditional uses of this material, creating large sized minimum thickness surfaces, which are used in exterior architecture, interior design and furnishings.
From the onset, we revolutionised the ceramic world thanks to a pioneering vision and to the introduction of ever more innovative products in terms of thicknesses and sizes. IN-SIDE technology has enabled us to take a leap forward, achieving for the first time ever body and surface continuity. The end result is a product which accompanies elegance with structure and beauty. Our company grows continually thanks also to the development of solid partnerships and a mutually beneficial exchange of know-how and ideas with those who, like us, nurture the ambition of shaping tomorrow's world.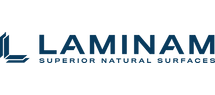 Add
Projects
News
06/05/2021 Laminam is the first to obtain NSF certification for contact with food

Laminam has set a new international record: it is the first manufacturer of ceramic slabs in the world to be awarded the "Solid Surfacing for Food Zone" certification, which authorises the use of its finishes in direct contact with foodstuffs and any related liquid condensate they produce.