BLEU COQUILLE
Bleu Coquille is a French stationery brand: products made in Brittany, made on the basis of illustrations painted in watercolor by Julia Cadiou, in Saint-Malo.
The Bleu Coquille universe is made up of pretty Posters, Postcards and Notebooks that are elegant, authentic and poetic. All of these creations are made from original hand painted watercolors. The illustrations are then reproduced and printed on high-end creative paper. Printing and shaping carried out by a Breton printer on carefully selected papers (all FSC labeled). Illustrations with "shellfish and crustaceans" atmospheres ... but also more vegetal and tropical atmospheres :)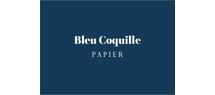 Add
News
21/07/2021 Salon de Créateurs

Début Juin 2021, j'ai exposé mes créations (Cartes Postales, Carnets, Affiches Décos) au Bastille Design Center, à l'occasion du Salon de créateurs organisé par Bande de Créateurs... L'occasion pour moi de rencontrer les Parisiens, et de leur présenter ma marque.