ANTONIJA M.
Present at Maison&Objet Fair
From 20-24 January 2022
A storytelling brand on the quest to spark Magic in people's lives. Creating captivating stories and contemporary art objects - Food for the Soul, Feast for the Eyes.
A story can fit into a sentence or into a book. It's not defined by its form, but the power to touch our heart. Stories inspire, build hope, ignite dreams, heal wounds. Something we are all craving for after everything got challenged and changed in the past 16 months – the world, our lives and we ourselves. Antonija M. is telling stories, not selling objects. We bring stories to life that will take you on a journey deep beneath the surface - make you feel, think and heal. Our Art objects just happen to deliver the story and narrative into your home.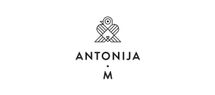 Add