BALAMATA PARFUMS D'INTÉRIEUR
Enter the world of BALAMATA home fragrances. The subtle and refined scents that characterize the French regions, available in room sprays, candles and scented bouquets ...
BALAMATA was born in 2012 from a desire to share, make people discover and create emotion through interior fragrances. Delicate and refined olfactory proposals that characterize the French regions. Our manufacturing workshop is located in the south of France. Each scent is tailor-made with our perfumer from Grasse with a natural approach. Our candles are based on vegetable wax, we also use vegetable alcohol for our scented solutions. We pay particular attention to using recyclable materials for our products.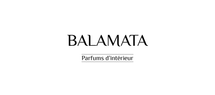 Add