APOTHECA PARIS - LUXURY FRAGRANCES MADE IN PARIS
Created by Rodolphe BORGNIET (Luxury Fragrances Made in Paris), Apotheca Paris offers 14 fragrances inspired by apothecary curiosity cabinets (candles, diffusers, room sprays), and a magnificent range of 100% Washed Linen linens - 12 colors.
The Apotheca fragrance collection is based on the vision that every ailment has it own remedy, putting flora and fauna in a bottle. Candles, diffusers, refills, but also a range of liquid Marseille soaps for a delicately scented result. Show-room 59 rue! Jean de La Fontaine 75016 Paris. The collection of household linen brings together in 12 colors cushions, curtains, tablecloths, eiderdowns, and 8 colors are worked in placemats. The material? 100% washed linen mainly from France.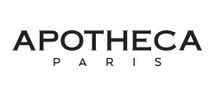 Add