GRAVIMORPH
GRAVIMORPH is a coined word combining two words : gravitation and morphology. We introduce unique relaxing items from Japan. These are original items with simple movements and pleasant tones. Relax & Concentration (at home or in the office)
Its unique motions and sounds give you a blissful moment. The goal is to help you look at yourself, improve yourself, and heal your weary mind. We recommend using it for Zen and yoga. It helps you to reset your mind and improve your concentration. It looks unique and is an elegant item to use everyday. When not in use, you can use it as a decorative item. It is also recommended to use it in the office. By using these, you can concentrate on your work and expect a better performance. The modern shape and contemporary design fits also the office environment.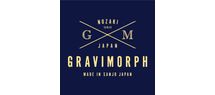 Add
News
17/09/2022 NEW ENERGY TOKYO

We exhibited at the New Energy tokyo Exhibition held in Tokyo for four days from September 8 to 11. The exhibition will feature a number of well-designed, new-age-inspired items. We also exhibited and received high praise from many users. The real thing shows the exquisiteness of our items. We can also export samples to overseas, so please feel free to e-mail us. GRAVIMORPH

13/12/2021 Lookbokok

A lookbook that introduces our brand has been completed. We can also send it by mail. Please contact me if you are interested.

13/12/2021 Award: Ambiente

In February 2020, we won the "Trends 2020" award at the trade fair Ambiente winter 2020 held in Frankfurt, Germany. Our unique concept has been recognized in Europe. We are proud to have been selected for this award. Thanks to everyone on the team for their cooperation.