HELLEN VAN BERKEL HEARTMADE PRINTS
Designer oriented collection of high quality scarves, homeware, and art inspired articles. All Hellens products are connected with each other through her recognizable handwriting and color feeling, but above all through quality and style.
The beauty of the Heartmade Prints by Hellen van Berkel collections lies in how it came to be. Without being bound by fashion trends or commercial restrictions, Hellen van Berkel devotes herself to making limited editions of her scarves, home textiles, and brooches, heart first and takes joy and pride in her bold designs. Print is always the connection between the various product groups she developes, and print is how she wants to tell her story.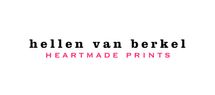 Add