10DEKA OUTDOOR FURNITURE
Inspiration, invention, creation, new aesthetic experience: 10DEKA OUTDOOR FURNITURE.
"B&N Contract Furniture S.A." has been present in the contract furniture and design sector since 1991. Our new range under the brand name 10DEKA OUTDOOR FURNITURE has been designed exclusively for 4 and 5-star hotels and luxurious projects. Its clean and minimal lines highlight the simplicity of nature and its high tolerance aluminum frame warranties durability in all kind of environments whether next to the waves of the ocean or up on the demanding temperature changing of the mountains.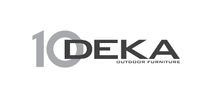 Add