LALIQUE VOYAGE DE PARFUMEUR
Attending MAISON&OBJET
17-21 January 2020
HOME FRAGRANCES Hall 5A — Stands F12 - G11
LALIQUE is about style and lifestyle. LALIQUE's offer includes a broad range of lifestyle products, from art to decorative pieces, from architecture to interior design, from jewelry to perfume.
World-renowned for its legendary crystal creations, LALIQUE asserts its vocation as a lifestyle brand with the exclusive VOYAGE DE PARFUMEUR collection. A series of refined home fragrances, inspired by the world's most breathtaking scenery, fashioned from the finest aromatic ingredients.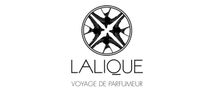 Add to selection
News
06/09/2019 ÉPINES - A SCENTED JOURNEY INTO THE GARDEN OF TEMPTATION

For this exceptional edition, Lalique draws its motif from one of its founder's mythical creations: Épines, a collection of bathroom accessories adorned with a delicately interlaced design of brambles, raspberries and blackberries. The exquisite vessel of the candle traces the stylized curves of a blackberry bush, enhanced by polished crystal, against a background of satin crystal.

28/01/2019 NEROLI - CASABLANCA, MOROCCO. 600 gr CANDLE

The Voyage de Parfumeur collection sets off on a new adventure, as Néroli Casablanca, the olfactory creation signed by the prestigious perfume house Expressions Parfumées. For the first time, the iconic black Lalique glass hosts a 600-gram candle endowed with three wicks for intense diffusion

15/10/2018 NEW ROOM SPRAYS

Lalique offers three of its perfumers' journeys as luxury home sprays. Housed in a chic flacon adorned with Lalique's signature Hirondelles ("Swallows") in silver emblem, each scentscape highlights the most iconic olfactory note of a dream destination. Three fragrant journeys to turn your home into a faraway paradise. All you need to do is spray!