DESIGN BY JALER
Contemporary art to decorate your interior. Design By Jaler: atmosphere designer for your interior design project.
OFFER A FUN POP ART DECORATION TO YOUR CUSTOMERS Spread some color in your home with our pop art collections, ideal for those who love originality and fun decoration!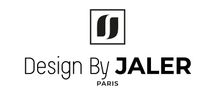 Add
News
14/01/2023 Press kit January 2023

The art house DESIGN BY JALER will participate in the Maison & Objet show from January 19 to 23, 2023. This new edition will be an excellent way for Julie JALER to unveil her new creations, notably with the arrival of new collections of candies, skates and inclusions.

24/08/2022 Communiqué de presse : DESIGN BY JALER PRESENTE SA PREMIERE COLLECTION D'ŒUVRES ET D'OBJETS DESIGN, SOUS LA LICENCE CHUPA CHUPS EN EXCLUSIVITÉ AU SALON MAISON & OBJET

La Maison d'Art Design by Jaler a imaginé une collection exclusive de Sculptures et Objets Design inspirés des plus iconiques parfums des sucettes Chupa Chups : sucettes géantes en résine, bonbons et objets de décoration, qui sera dévoilée en exclusivité et pour sa première participation au salon Maison & Objet qui se déroulera du 8 au 12 septembre 2022.