WIENER SILBER MANUFACTUR
Time-honoured craftsmanship, paired with precious, value-retaining materials and exclusive, contemporary designs.
WIENER SILBER MANUFACTUR is a high-ranking producer of classic silver tableware and selected designer pieces. The workshop is shaped by over 130 years of tradition, and features original models and tools. Extraordinary design demands particularly high-quality materials. The Wiener Silber Manufactur works exclusively with a silver alloy of 940/000. The finer the silver, the better it is protected against oxidation. And the more often it is used and polished, the more it continues to gleam.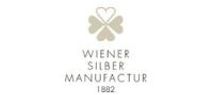 Add