AUSKIN EUROPE PTY LTD
Nature is the architect, AUSKIN maintains the integrity of the raw materials in the designing process. The natural properties of the sheepskin are upheld and enhanced, full respect is shown to the most versatile natural fibre in the world.
Fibre by AUSKIN: headquartered in Australia, we operate on a global scale purchasing raw material and finished products from around the world, we own and operate tanning, manufacturing and design facilities in China and have sales offices in all major markets. We are your global source for rugs, cushions, beanbags and throws. Whether it's Alpaca wool from South America or Merino woolskin from the depths of the South of New Zealand and Australia, or other natural fibres like Iceland and Tibet Sheepskins or cowhide- and reindeer rugs. Visit us and discover lots of new products!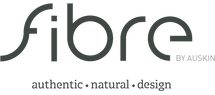 Add to selection