WALL&DECÒ
WALL&DECÒ is a creative inspiration boasting an ongoing balance between planning and design, photographic hyper realism and graphics, research and formal immediacy.
It is a new approach to wall decoration, an expression of trends and suggestive settings, boasting a unique design and a strong visual impact. From the focus on indoor wallpaper with "Contemporary Wallpaper" and "Essential wallpaper" collections, the project offers also "OUT System", the outdoor wallpaper and "WET System", the shower wallpaper.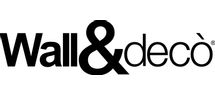 Add
News
10/03/2021 The new Contemporary Wallpaper Collection 2021 at the WeMU Wall&decò Experience Museum

WeMU, Wall&decò Experience Museum: a virtual construction with a realistic architecture that transcends realism, heralding the new Contemporary Wallpaper 2021 collection on various levels. 72 new graphics grouped into 3 moodboards that set out the new collection in an original geography of graphics, styles and colors -

16/01/2019 THE NEW CONTEMPORARY WALLPAPER COLLECTION 2019

CONTEMPORARY WALLPAPER The pictorial and narrative collection by Wall&deco: photographs, drawings, pictures, tromp l'oeils, illustrations and quotes from every imagination of the world. An horizon continuously widening, embracing an always greater number of visions, strokes, different signs. A source of inspirations to create vertical wall patterns that tell stories, for unique interiors

16/01/2018 THE NEW CONTEMPORARY WALLPAPER COLLECTION 2018

New palettes for 2018 Wall&Decò collection. Punk Reloaded. The purple, fuchsia and blue frame emerges from the darkness, like neon signs Colore vs Colore. Powerful colour contrasts, where warm tonalities are lit up and cooler hues are desaturated without losing their strength Winter Elegance. Rich and profound tonalities which move in an iridescent atmosphere illuminated by reflections.